Frankie and Rosemary
Frankie's gift of music was apparent at a very young age. A native Californian, Frankie began playing the drums at two years old and was playing professionally by the age of 11. Considered a child prodigy at 11, he toured with Lionel Hampton as a featured soloist. He was also one of the child dancers in the movie West Side Story starring Natalie Wood and Rita Moreno. Frankie was instrumental in introducing Karen Carpenter of The Carpenters to the art of playing drums. While attending Downey High School in Downey, CA, they were classmates and friends, but she was taken by his drumming and he became her first drum teacher even helping her to purchase her first drum kit. Frankie was interviewed and included in the July 2010 book release of Little Girl Blue: The Life of Karen Carpenter by critically-acclaimed author Randy L. Schmidt. It's a New York Times Editor's Choice and a Wall Street Journal Best Seller. An accomplished drummer and percussionist, Frankie has performed and recorded with numerous artists including  Lionel Hampton, Stan Kenton, Woody Herman, Gerald Wilson, Larry Carlton, Dee Dee Bridgewater, Pat Boone, Mitzi Gaynor, Bobby Gentry, Vikki Carr, Willie Bobo, Buddy Collete, and the list goes on. In 2011 and again in 2012, Frankie toured with the Los Angeles-based Glenn Miller Orchestra touring internationally in Mexico, the Far East at the Thailand Jazz Festival, and then an exciting eight week tour of Australia playing fabulous concert settings.
In 2016, Frankie was interviewed for a 90 minute documentary celebrating the best loved songs of the biggest selling sister and brother act in music history, The Carpenters. The documentary, which aired in the UK, was entitled "The Nation's Favourite Carpenters Songs". It was on the ITV channel and produced by Shriver Entertainment. Frankie, along with Burt Bacharach, Petula Clark and other famous fans, recount their association with both Karen and Richard. In 2019, author Randy L. Schmidt, once again contacted Frankie asking him to be part of an upcoming documentary on Karen entitled "Karen Carpenter: Starving for Perfection". In October of 2019, a film crew from award-winning AMS Pictures, an Emmy award-winning production company, based in Dallas, TX, came to Sedona and shot footage of Frankie while in the studio finishing up the CD "A Sedona Christmas". Once again, it captured Frankie's association with and influence on Karen's drumming.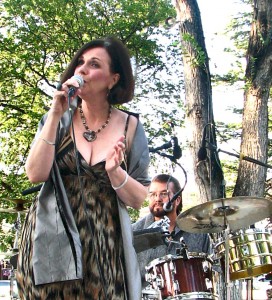 Rosemary, who is from Minnesota, began singing at three years old. She went on to earn her Bachelor of Arts degree from Luther College where she toured with the internationally acclaimed Nordic Choir under the direction of the legendary Weston Noble performing in such notable settings as Alice Tully Hall at Lincoln Center in New York City. She was also a featured recording soloist in the Luther College production of Handle's Messiah before going on to perform and tour with several Midwestern musical show groups.
Rosemary performed extensively in Los Angeles and while there, she worked in small combos with artists such as Billy Mitchell (Jazz on the Rocks headliner) and Nick DeMauro (Singer and Actor on Betty White's "Off Their Rockers") to large big bands such as The Ron Rubin Orchestra. She played clubs on the famed Sunset Strip, high end society events in Beverly Hills, and venues from Hollywood to Disneyland. Her professional recordings include three solos along with The National Philharmonic Orchestra on the movie soundtrack, ROAR, starring actresses Tippi Hedren ("The Birds") and Melanie Griffith ("Working Girl"). Prior to leaving LA for Sedona, composer, arranger and conductor, Terence P. Minogue, chose Rosemary as the featured vocalist for his American Voices CD.
In 2010 Rosemary reunited with the Weston Noble Alumni Choir for their European Tour to Austria, Germany and the Czech Republic where she was a featured soloist in Prague. That same summer she sang with the leaders of the Stan Kenton Alumni Band, the Harry James Orchestra and the Jimmy Dorsey Orchestra at the Prescott Jazz Summit. She is featured on the "Sweet Jazz a'la mode" CD and the "A Sedona Christmas" CD, which are available for purchase or streaming on Amazon Music, iTunes, Apple Music, Spotify, and YouTube Music. Both CDs feature the performance and production talents of Frankie Chavez.
These versatile performers have played numerous upscale venues, society events, private parties, weddings, receptions, and corporate events. Their musical styles encompass Jazz, Standards, Blues, Pop, R&B, Latin, Rock, and Funk. Additionally, Rosemary has extensive wedding ceremony and church soloist experience. Their original music is an eclectic mix including Jazz, Latin, Pop, Country, Soft Rock, New Age, Easy Listening, and Inspirational.
Currently, Frankie and Rosemary are featured concert artists in Sedona and Prescott. They have an extensive following in the area and continue to enjoy playing live music.
Rosemary continues to captivate her audiences with her bold beautiful voice and is affectionately referred to as "Pipes" while Frankie continues to keep everyone in step with his uncanny ability to know what audiences are looking for when they come out to listen or dance to music. Just like Frankie's friend and mentor, world-renowned drummer, Buddy Rich used to say "Keep it going, kid. Just keep it going."
Some Arizona venues where Frankie and Rosemary Chavez have been featured with their two musical groups Jazz a'la mode and PLATINUM are:
Art Walk at Tlaquepaque in conjunction with Jazz on the Rocks in Sedona
Bucky's Casino in Prescott – Max Borjon Big Band
Canyon Moon Theater – Concert Series – Sedona
Clarkdale Concerts in the Park – Sentimental Journey Big Band
Courthouse Square – Summer Concert Series in Prescott – Jazz à la mode
Courthouse Square – Summer Concert Series in Prescott – PLATINUM
Courthouse Square – Summer Concert Series in Prescott – Swing Shift Big Band
Courthouse Square – Summer Concert Series in Prescott – Mike Vax Big Band
Elks Theater in Prescott
Festival of Lights at Tlaquepaque in Sedona
First Friday Art Walk at Tlaquepaque in Sedona
Good Morning Sedona
Jim Buchanan Concert Series – Sedona
Pecan and Wine Festival of Camp Verde – Several Years
Prescott Jazz Summit 2008, 2009, 2010, 2011, 2012
Sedona Arts Festival
Sedona Creative Life Center
Sedona International Film Festival
Sedona Marathon
Sedona Red Rock Dirt Concert Series
Verde Valley Voices Concert Series – Cottonwood
Yavapai College Auditorium in Prescott – Yavapai College Big Band
Yavapai College Auditorium in Prescott – Ensemble with Comedian Rich Little
4th Annual Pops Concert Presented by the Sedona and Flagstaff Symphony League
Verde Valley Sinfonietta featuring soloist Rosemary Chavez singing Rachmaninoff's "Vocalise".
Clubs/Restaurants/Businesses:
Sedona: Sound Bites, The Vista Room at "The Collective"; Relics; The Olde Sedona; Ravenheart; The Martini Bar; Full Moon Saloon; PJs Village Pub; The Marketplace Café; Son Silver West; Sinagua Plaza; Ken's Creekside Gypsy Lounge; Jazz Bouquet, The Desert Flour Bakery, REDS at the Sedona Rouge Hotel & Spa
Flagstaff: Little America; Lawyers Title
Prescott: Hassayampa Inn; Murphys; 129 ½ An American Jazz Grille; Monks; El Gato Azul
Private Events:
Sedona: Enchantment Resort; L'Auberge; Agave; Amara Creekside Resort; Tlaquepaque; Sedona Rouge Hotel & Spa
Flagstaff: Flagstaff Conference Center; Flagstaff Ranch; Flagstaff's Pine Canyon Clubhouse
Prescott: Talking Rock Ranch; Hassayampa Golf Club; Hassayampa Inn; Prescott Resort The Windmill House in Chino Valley, Stoneridge Golf Course
Scottsdale: Ancala Country Club; Ancala Homeowners Association
Wickenburg: Rancho de los Caballeros.
Diamond Resorts: "Events of a Lifetime" featuring Frankie and Rosemary Chavez at top Sedona venues.
Benefits:
Fire Victims of Sedona "A Day of Caring" June 2012.  Rosemary was one of the Core Leaders of this event coordinating the bake sale and volunteers, working with musicians booking talent, and working wherever needed.  This small group of local residents raised $30,000 to help fellow musician Sammy Davis and his family as well as two other local families who lost their homes to tragic fires.  Frankie & Rosemary also donated their talent with their performance at the grand finale concert.
Katrina Fundraiser in Sedona for the benefit of the Flagstaff American Red Cross.  Rosemary and Frankie, along with Tammy and Mark Charlesworth, created the Sedona Cares event and in a short two week period raised $5,000 for our local Red Cross.  Chavez Music provided all of the music and musicians while the Charlesworth's bed and breakfast, The Creekside Inn, provided the extraordinary setting.
The Verde Valley Sanctuary Fundraiser at Briar Patch in beautiful Oak Creek.  Rosemary and Frankie joined the extraordinary talents of "Lyra" (Mary Anne and Allen Ames) and Jim Buchanan for a lovely afternoon concert fundraiser for those in need.
The Sedona Humane Society (several events)
Guest Band at the 2nd Annual Sedona Humane Society Telethon hosted by Warren Eckstein
West Sedona School's "Casino Royale" fundraiser at Enchantment
"Sedona", The Movie Fundraiser at Tlaquepaque
Skip Stewart Benefit at the Barking Frog to help our fellow REALTOR in his battle against cancer.
Benefits for local musicians and others in need due to illness or other circumstances